About
Education and Training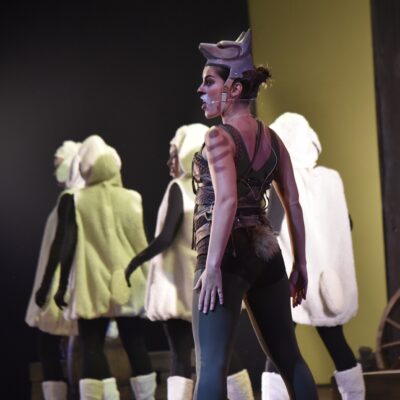 Goldsmiths University of London (2017-2018).
MA in Musical Theatre.
Grade: Distinction.
Scuola Formazione Attore of Accademia dello Spettacolo, Turin Italy (2012-2015).
Professional diploma, as Triple Threat Performer (actress, singer and dancer).
Grade of 110, Summa Cum Laude (Distinction).
Università degli studi di Torino, Facoltà di Giurisprudenza – Law University of Turin, Italy (2012-2017).
Bachelor's and Master's Combined Degree in Law.
Grade of 110/110 (Distinction).
Anna has been practising the Performing Arts since childhood. Aged four, she entered a preparatory music class at the Turin Centro Goitre music school. Aged six, at the same school, she also began attending singing and piano classes. By eight, she started training in Ballet and Jazz Dance at the Danza Studio dancing school of Turin. Anna discovered a passion for drama aged 16 during a year spent at the acting class of Pietro di Legami. To cultivate each of these Performing Arts, that same year she accepted a place on the pre-professional course of Accademia dello Spettacolo of Turin, directed by Mario Restagno, where she studied for three years.
Anna then was trained as a professional performer at Scuola Formazione Attore of Accademia dello Spettacolo, Turin. There she obtained a diploma with the top grade, as a professional triple threat performer: actress, singer and dancer. During these three academic years (2012- 2015) she received a comprehensive education in the performing arts, studying acting with most prominent teachers and directors in Italy (Fabiana Gariglio, Paolo Vallerga, Mario Restagno, Andrea Speranza, Andrea Bochicchio, Sergio Troiano, Franco Abba, Massimo Giardini). Anna also further trained her voice, refining her vocal technique, exploring different styles with a particular focus on musical theatre. These studies were overseen by a range of qualified teachers, singers and composers (Angelo Fernando Galeano, Sara Memore, Cristina Lai, Giovanni Maria Lori, Stefania Piovesan). To complete her education she trained in several styles of dance (Modern jazz, Ballet, Contemporary and Tap) alongside international choreographers and dancers (Don Marasigan, Margherita Marasigan, Laura Scaringella, Philippe Pierson, Emanuel Alba). Anna also attended theoretical classes on subjects such as: the theory and history of the performing arts and practiced piano, taught by Sara Memore.
In September 2017 Anna moved to London to attend the MA in Musical Theatre – production at Goldsmiths University of London, to perfection her knowledge about the industry.
Performing & Teaching
Anna worked in Italy and the UK as a professional in different kind of shows: from concerts, to musicals, classical theatre shows, and so on. Recent Credits include: Gaia in MUSICANTI DI BREMA – A ROCK MUSICAL (Italian tour); Soloist singer at JEWBILEE – THE JEWISH CABARET'S BIRTHDAY CELEBRATION (Above the Arts); Leading Singer in MÉLANGE MUSICAL THEATRE FESTIVAL LAUNCHING CONCERT (Tristan Bates Theatre); Merida in FAIRY TALE CAMPAIGN TRAIL (The Stretch); Ensemble in QUEEN GREATEST HITS LIVE (Italy); Leading Performer in THE SOUND OF MUSICAL (Italy).
Already back in Italy, she started working as a teacher of MT, Music, Dance and Drama to children and teen agers. She is currently Head of Singing at Almost Famous Performing Arts, Drama Teacher at Dramavision and Musical Theatre/Drama teacher at SOTO.
Producer Career
Visit my Producer website at http://annaoggero.com/
Moving to London, Anna started her career as a theatrical producer too and she had the opportunity to work on several exciting projects related to musical theatre, theatre and opera. In 2017 she produced the workshop of the musical Triangularity by Flora Leo. In 2018: she worked as Co-Producer on her final MA project, a new musical called Butterfly Lovers; Assistant Producer of the plays Under-the-Skin, and Baby Love by Tik-sho-ret Theatre Company; Production Manager for the London run and the Israel tour of the new musical Jew You Love Me? by The JEWish Cabaret Theatre Company. Moreover, she worked as Project/Production Manager from February 2018 until March 2020 at Opera Co-Pro Ltd.
Currently, she is collaborating with The JEWish Cabaret as Production Manager, to stage the musical Café Named Desire in 2020/2021; she is working as a freelance producer with Jonathan Meth and Jessica Litwak to put on their new show My Heart is in the East (MHITE); and she is also producer of The Trinacria Theatre Company, working to stage their new play Hades & Persephone (R&D Dec 2019 – Second R&D April 2020, funded by Arts Council of England after submitting a successful application to National Lottery Project Grants). Since June 2020 Anna joined Finchley Children's Music Group as General Manager.